RMI's goal is to support and supply the traditional builder/operator, while offering a broad range of products to attract the next generation of enthusiasts. We have the broadest range of equipment ever available from a single supplier: nine electric and five gas-hydraulic locomotives, five trolls and trolleys, four models of 3 3/4" scale live steam locomotives (plans and castings or completed locomotives), plus riding cars, narrow gauge rolling stock, structures such as platform covers, signal bridges and towers, light towers, a complete modular track system, plus a full line of powered chassis, electronic controls, DC motors and gear boxes.
While RMI products feature traditional construction techniques such as solid steel riveting and high quality castings, we also take full advantage of the most modern materials and manufacturing processes available. Thick section parts are cut with ultra-high pressure water jets, steel parts are laser cut, and machining is done on CNC machine and turning centers. As a result of this effort, all parts-original or replacement-fit and are affordable.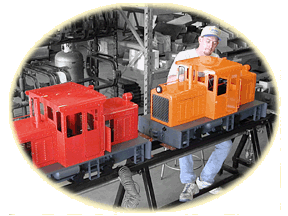 Our 10,000 square-foot facility is located in Oxnard, California.
Please call before dropping by.
Roll Models Ind.
174 Lambert St.
Oxnard, CA 93036
Phone: 805-389-9065
FAX: 805-485-4157