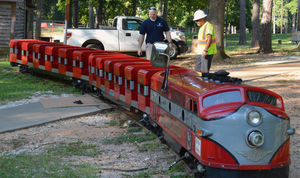 Municipal Area Supervisor Matthew Battles and an employee of Scott Bridge Company prepare to derail the Rocky Brook Rocket to send to California for complete restoration

Municipal Park's beloved Rocky Brook Rocket is West Coast bound, traveling from Opelika to California for a full-blown, vintage restoration.
The iconic Opelika train -- a staple in the community since 1955 -- was loaded off the tracks early Wednesday morning, and by Thursday, the Rocket was set to be en route to the Golden State for a restoration that officials said will aesthetically take it back to the 1950s, while equipping it with the modern technology it needs to remain in operation.
"It's a complete restoration, so everything is going to be stripped down to bare metal. So, they're going to come in and fix everything," Municipal Area Supervisor Matthew Battles said. "They're going to put a brand new engine in it, transmission. It'll be a brand new train when it comes back – and with modern technology. It will still look like it was in the '50s when it came, but it will be brand new on the inside, which is what we want."
Battles said RMI Railworks Industries, the California-based business tasked with restoring the Rocket, will also add a third car to the train, increasing its passenger capacity.
The restoration will cost approximately $70,000, all of which Battles said was obtained through private donations. By the time the train returns to the park, he said those who contributed to the project will be honored by having their names displayed throughout the area.
Battles said he expects the train to be back in commission by next May.
"I would like to have it back for public use and introduce it back to the city at Garden in the Park. So before, we'll probably do some testing and something like that and get some people trained on it, but it will be back for public use at Garden in the Park in May."
Tom Plott, an Opelika resident who came to see the Rocket off, said some of his best childhood memories involve the train, and he's happy to see the city taking measures to make sure it stays around for another 50 years or longer.
"Next spring it's going to be like brand new again, and hopefully we'll get another 50 years plus."