Roll Models RMI Railworks has earned an enviable reputation for producing rugged, reliable, and affordable railroad equipment. We hope these products have and will continue to attract many new individuals to our hobby.
We have reached our goal of applying our technology and manufacturing techniques to a line of highly detailed locomotives and cars we call the "Legends Series".
The offerings in this line are the currently available CNJ 1000 Box Cab, D&RGW #50, Sacramento Northern #654 Steeple Cab, Fort Dodge, Des Moines & Southern Steeple Cab, and the Petaluma & Santa Rosa Steeple Cab. a 50hp Baldwin Gas-Mechanical Trench Locomotive, SP X1 and 70 Ton locomotives. The X1 and 70 Ton and Box Cab locomotives are available in the massive 3.75 inch E scale and can be built to run on up to 12 inch gauge tracks.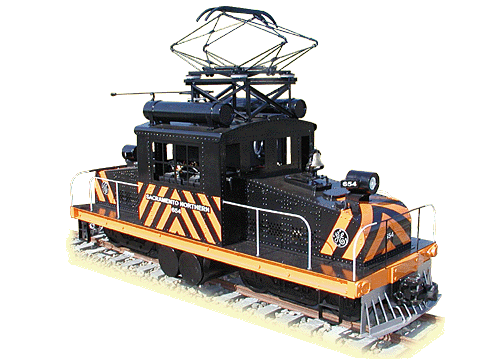 Baldwin Gas/Mech
and Cars