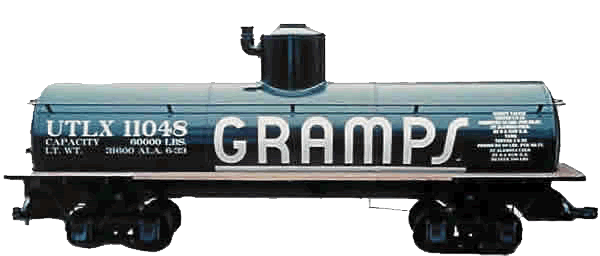 Of the many styles of freight cars that have traversed the rails across the United States, the tank car was the one car designed exclusively to transport a wide variety of liquid loadings. Ranging from water and milk to the most volatile and caustic energy commodities, the tank cars' versatility has continued to expand over time.
Generally, early transporting of liquids by railcar consisted of flatcars with mere tubs mounted on the deck. By the 1870s, the cylindrical tank was developed and was originally banded to a wooden frame or flatcar. In the early 1900s, inventor John Van Dyke created the "X-car" design which essentially joined the tank to the truck bolsters by means of a unique anchor construction. This design increased the safety and practicability of the tank car to allow reliable transport of gasoline and relatively dangerous chemicals that were being developed throughout the later industrial period. The Van Dyke cars were developed for Standard Oil's railcar leasing subsidiary known as Union Tank Lines.
RMI is proud to introduce our 2 1/2" and "E" scale models of the Union Tank Car Co.'s (UTLX) narrow gauge Frameless Tank Car. Built in 1924 through 1930, they were originally delivered with 4'8" wheelbase arch bar trucks. Many were later converted to cast Andrews style trucks. The most easily recognized of the group were those owned by Lafayette "GRAMPS" Hughes. We have chosen this variant as our prototype.